Now is that time of year when you go back to wearing the cult garment par excellence, a must in everyone's wardrobe: the t-shirt. The symbol of casual fashion, in recent years we have often seen it reinvented and become the feature of even the most chic and classy outfits. Basic, patterned or strictly plain white, the t-shirt assumes the most varied forms and textures, to be worn with ease on every occasion. An important element not to be forgotten: accessories. In this case, pairing the right necklace to the chosen t-shirt becomes fundamental in creating the perfect look for all tastes.

The challenge is not always easy, because, as already mentioned, there are so many t-shirts and they are all different. One of the details to pay particular attention to when choosing jewellery to match with the shirt is the neckline. Is a long or short necklace better for a V-neck T-shirt? And what kind of necklace goes better with a patterned t-shirt?

If it also takes you a long time every morning to decide what the right necklace is to pair with the t-shirt you're wearing, or if you want to discover how to turn a basic t-shirt into a garment to wear on an important occasion, here's the right style-guide for you!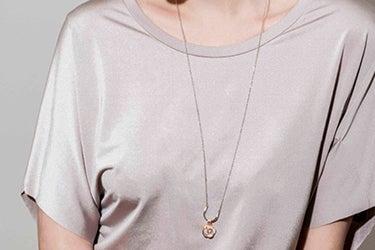 #1 Round neck T-shirt
Not only this is the most common t-shirt, but it is also the one that allows more choices regarding the jewellery to wear.
A maxi round neckline t-shirt, for example, can become a chic garment with the help of a long necklace with a pendant: a perfect outfit for the entire day, as appropriate for the office as it is for an evening out with friends. With a classic round neckline, not too deep, the choice of jewellery is quite simple: a long necklace is always a good option, otherwise you can opt for a statement necklace, to transform the simplest t-shirt into the highlight of an eccentric look, to wear on important occasions.





#2 V-neck T-shirt
If the t-shirt you're going to wear has a V-neck, you have to choose a necklace that follows the shape and size of the neckline. So round and rigid shaped necklaces are barred: it is better to opt for a soft necklace with a small pendant or charm at the center.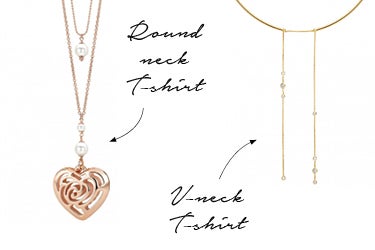 #3 Boat neck T-shirt
A t-shirt with a boat neckline is in itself a piece of irresistible charm and a taste that is a bit retro: a must have according to the fashion trends for spring-summer 2017. But what accessories go with it to get an impact outfit? For an elegant look with timeless beauty, the advice is to wear a choker necklace: it will soften the neckline discreetly, while shining with class.
#4 Square neck T-shirt
The square neckline makes a t-shirt become extremely versatile, making it suitable for every occasion if combined with the right accessories. The necklaces to choose from in this case will always be rather short: whether they are chokers, collars or necklaces with gem stones, they should never be longer than the lowest point of the neckline.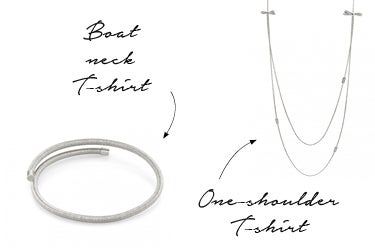 #5 One-shoulder or asymmetrical T-shirt
For a gritty look one-shoulder or asymmetrical t-shirts are ideal: black or glittered texture for the evening, lighter and light fabric for the day. But what necklace best pairs with a garment of this type?
You definitely need to opt for a long model: choose your favorite from among the most classic necklaces with pendants, those enriched by cascading fringes to create a boho style or metal ones made of several wires, that lend themselves to creating a minimal and modern look.
#6 Tank top
If you love tank tops then there are two possibilities for pairing them with accessories: a short necklace with clean lines, perhaps with a brilliant detail, or a necklace embellished with a pendant. The important thing is to remember to choose according to the depth of the neckline: an essential choker lends itself to higher necklines, otherwise be daring with a pendant. To surprise, the idea could be to pair such a basic garment with a choker with a single, precious pearl.





#7 Cowl neck T-shirt
Refined and suitable for the most formal occasions, the cowl neck makes a garment irresistibly chic. For a bon ton look, opt for a subtle and delicate necklace: a minimalist accessory to brighten a classy outfit.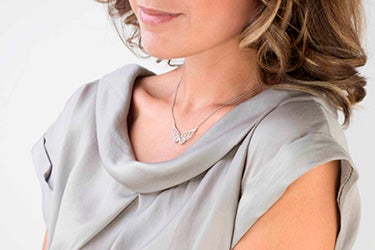 #8 Plunge neck T-shirt
When it comes to special but not too formal occasions, like a party or just a night out with friends, a plunge neck t-shirt is definitely a winning card to play for a rock star look. Choose a rich fabric and soft shapes, but above all do not forget the accessories, which in this case are fundamental. The watchword is dare: it is thumbs up for long necklaces with pendants or cascade, which will follow the neckline of your garment.





#9 Halter neck T-shirt
With this type of neckline the realm of possibilities regarding accessories expands: the necklace to wear will depend on the effect you want to achieve, but also according to their body type.
Our advice in any case is to go toward short necklaces: more magnificent and impressive for minimal garments and elegant occasions, more delicate and subtle in case the clothes that make up your outfit already contain different colours and patterns.
#10 Print T-shirt
A t-shirt with graphic prints and drawings can only be part of a witty and saucy outfit. Get Creative with your choice of accessories, but beware: the necklace to wear with an already striking t-shirt can not be excessive. Opting for a short or medium length is ideal: to keep the look cool and ironic, choose a necklace with some colourful charms, maybe even personalized.
#11 Pattern T-shirt
If your favorite t-shirt is not basic or plain colour, the accessories should be chosen with great care, to avoid a loud or excessive result. With ethnic motifs , and in general with patterned prints, the best option to create a sophisticated look is definitely a necklace with clean lines, enhanced to the maximum with a large pendant.