Nomination launches its first eau de parfum, a fragrance to treasure like a jewel.
Nomination, the epitome of Italian Style and jewellery Made in Italy, launches it's first unisex fragrance, stepping elegantly into the Beauty sector.

OUD eau de parfum by Nomination is characterized by a single ingredient, oud, also known as Agarwood, or "liquid gold". This precious essential extract comes from the resin from the Aquilaria tree,long used in mid-eastern ceremonies and iconic symbol of the fine Arabic fragrance tradition.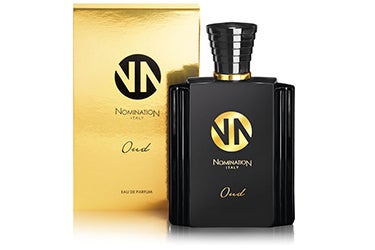 This delightful nectar is united with airy fruit notes to create an aura that is both
fresh and dynamic.
The result is intense, opulent, mysterious, each drop capturing echoes of millennia of tradition for a sensual and enchanting sensorial journey.
The perfume bottle is as essential as the fragrance it carries;
a perfect, elegant combination of Nomination's signature black and gold,
wrapped in a golden box that is as refined as the bottle.
OUD will be distributed exclusively in selected Nomination monobrand boutiques in the Middle East and Europe. For more information please contact ITALY TRADE LTD 1 Boundary House, Notting Hill - W11 4JY London accessory@nomination.com