2017 is a very important year for Taurus, filled with eye-opening revelations. Life may take you by surprise, and as May approaches, the springtime sun starts to heat things up – hearts included! Dear Taurus, it's time to devote yourself to the art of being together: spend time with those you love and who make you feel good, and you'll be rewarded in turn with their love and with true friendships. Add a touch of sparkle and glamour to your look with Taurus' gemstones. Find the right jewellery for you and discover this month's lucky colour.
TAURUS' BIRTHSTONES
EmeraldMay's gemstone is the emerald, whose rich, intense green emits optimism and positivity. It's the perfect good luck charm for Taurus to face this crucial year head-on.
Green Agate
Both of Taurus' gemstones are green. Agate is connected to emotions and strength of character. It's the perfect ally to your future achievements.
THE PERFECT JEWELLERY FOR TAURUS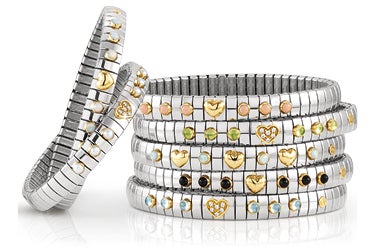 For HerThe perfect jewellery for the Taurus woman are the new bracelets from the Extension Collection: bright and colourful, they're stunning when worn all together, and they're embellished with a delicate gold heart. A promise of love and happiness to keep with you always!
For Him
The perfect jewellery for the Taurus man are the necklace and bracelet from the Metropolitan Collection. Decisive and contemporary, the mix of leather and lacquered stainless steel makes for a style that's fierce. Choose your favourite symbol and have some fun with your look by adding a touch of rebellious adventure.