Born April 21, 1926, Queen Elizabeth is celebrating her ninety-first birthday this year. As per tradition, the festivities will take place twice: the first on her birthday, privately, with family, and the second with the grand Trooping The Colour parade, which will be held this year on June 17.
But who is the Queen?
Elizabeth II has been the Queen of the United Kingdom of Great Britain and Northern Ireland (and many other lands around the world) since way back in 1952: in fact, she holds the record for the longest reign in British history and the longest for any queen in history. An icon of style and elegance, the Queen is known for wearing eccentric hats and dresses in loud colours.
Who designs her clothes?
During her long reign the arduous task has been entrusted to various designers. All agree, however, on one thing: the Queen knows exactly what she wants to wear. And so the most famous fashion designers in the world receive precise instructions every time on how the clothes that she wants to wear for a particular occasion must look. And when the sketches are ready, Elizabeth II checks them and proposes her modifications, in accord with her tastes and her figure.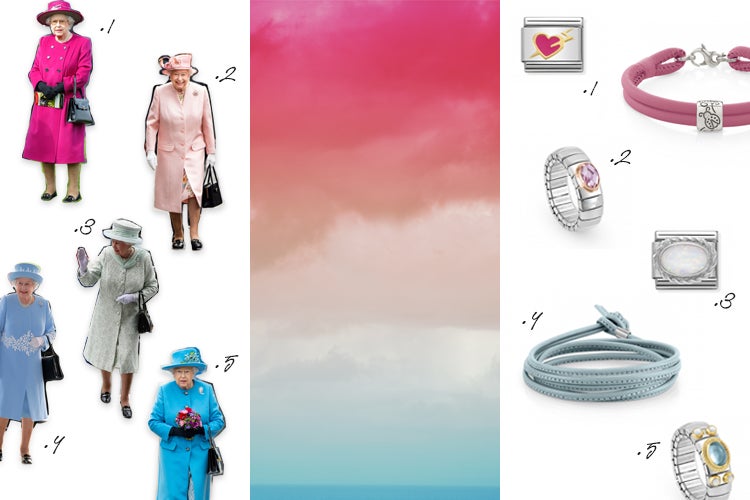 A dress for every occasion
Yes: as the monarch of the United Kingdom, the Queen well knows that wearing the right outfit for every occasion is very important. One rule is fundamental: never show up with the same look for the same occasion, even after some time. How does Elizabeth II remember all the outfits she has brandished for each event? It is due to the "Queen's Notebooks", of course. What are they? A kind of catalog in which all the dresses worn by the Queen for every occasion are recorded (with no less than an identification code).
But why such loud colours?
It is impossible to not notice it: all the Queen's suits and impeccable gowns are always made of coloured, loud, and sometimes fluorescent fabrics. But for what reason? In addition to personal taste there's more: the queen prefers vivid colours to be visible amongst the crowd. Her figure is actually rather small: without the help of those flashy hats and those shocking hues it could be difficult to locate her on special occasions.

More than 5,000 hats and a rainbow of colours have passed through the wardrobe of the queen: but what are your favorites? Let's find out together and let's be inspired by the royal palette to choose our spring outfits.