The contemporary man always wants to look his best: every occasion has the right outfit that's perfectly accessorized with the right jewelry. Accessories play a fundamental role in personalizing your outfit and making it unique so that your personality is expressed through your look. Taking into consideration the most common trends for men in 2018, there's one in particular which speaks loudly, clearly, and with conviction: rock-chic fashion.

Men who espouse this style love dark colored clothing, from classic black or grey to shades of military green, taking the occasional risk by juxtaposing it against more flashy colors such as red, purple, or white. And it's not just with colors: trendy shapes, combining clothing that brakes with tradition, also layering accessories.

Men's fashion is becoming more eccentric while not renouncing that chicness which keeps it impeccable even when done up rock-and-roll style.

How can you create and personalize this trend? Discover how with our tips dedicated to all the guys who want to always rock!



Classic rock fashion for a look that's casual but stylish

Certain iconic rock-and-roll fashion has become mainstream and is worn in everyday life. The grunge style striped t-shirt, ripped jeans, and studded leather biker jackets represent the most recognizable rock looks in men's fashion. Over time these items have become must haves for every modern man.

An outfit comprised of a few basic pieces combined with the right accessories is the perfect way to express your personality.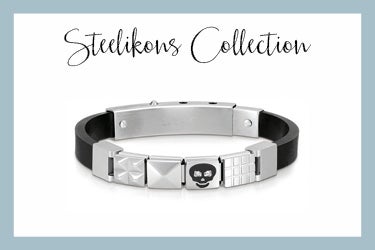 Which rock jewelry should you wear with this kind of look? A bracelet which combines leather or rubber with stainless steel details is undoubtedly the right accessory to enhance your basic, everyday look.
We suggest the Steelikons skull bracelet: stainless steel charms are embellished with details like classic punk rock studs and symbols with black enamel that are immediately associated with the world of rock.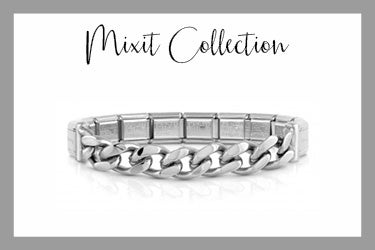 Simple yet totally rock and roll, the stainless steel Mixit bracelet is decorated with a thick chain: another jewelry option which goes perfectly with your everyday rock style.

Want something other than a bracelet? There are tons of options for the guy who wants to stand out. A lot of rockers wear pant chains: it's the perfect accessory to wear in your free time. The chain from the Freedom Collection is crafted in brass and silver with fine details.



The business rock-chic look for men

Who says you can't go rock if you work in an office? It's becoming more and more common to mix typical rock-and-roll clothing with more classic men's pieces, adding that touch of class so the true rocker doesn't have to hide his personality, not even in more rigid or formal settings.

For example? An all-black look where a t-shirt is worn together with a classic-cut suit jacket and is paired with a black leather biker jacket: rock, but with taste. A look this minimalist calls for accessories: but what's the right men's jewelry to add to this outfit?

The accessory that's practically tailor made for this look is definitely a long pendant necklace: keep the jacket unbuttoned so the necklace can be seen and will be the focal point. We suggest the necklace in silver and brass with a horn: it's a key detail but not over the top and adds the perfect touch of rock to an otherwise sober look.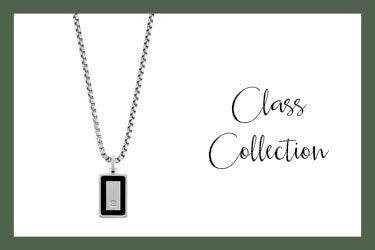 Characterized by a minimalist and sober design, the Class necklace mixes perfectly for a look that wants to be rock and chic at the same time. The stainless steel necklace contains a rectangular pendant in black steel with a small sparkling gemstone.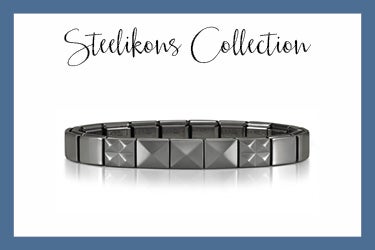 Rock style for eveningwear

Who would've guessed that rock-and-roll style would combine well with your chicest outfits for special evenings out? Here too we need to apply the art of mixing different elements of style and movement. Eveningwear rock goes glam: studs mix with sparkle, dark colors are paired with vibrant, shocking shades. The look is all about going big, even for men.

Leather becomes the focal point, and jackets are adorned with precious trimmings: metallic brocades, glitter and sparkling details, laminated fabrics. Rock-chic gets eccentric and is completed with accessories. If your outfit is really flashy, your jewelry can be a simple, shiny detail worn like an afterthought.



There's more than just necklaces and bracelets: a rocker also makes a statement with his rings. Flashy and over-the-top in burnished metal: these rings are major fashion pieces for men's 2018 fashion. For the guy who wants to show he's a free spirit, the Freedom ring in brass and silver with a tall ship symbol.