Graduation day: what better way to describe it than as "exciting" and "gratifying"? A milestone this significant is emotional not only for the person graduating, but also for their friends and family, who've witnessed the effort and perseverance which led to this moment. And it's felt even more so when the person graduating is your best friend.

You probably suffered together through endless hours of studying in the library, nights spent cramming for exams, and were overjoyed and relieved to celebrate once the grades were posted. Maybe you've already experienced for yourself what your friend must be feeling as she gets ready to present her dissertation: what's certain, though, is that we can't help but get swept up. Another thing that's certain is, in addition to helping and supporting our best friend in moments such as these, we've also got to be ready to celebrate her achievement and find her a special gift. But what's the right gift for a recent graduate who we love and cherish? Every friend is special and different: so each of them deserves a gift that's been chosen just for her and only her.

We've created a mini guide of the best graduation gift ideas: for each friend, there's beautiful jewellery to commemorate this moment.



Stainless steel bracelets with a graduation theme

A moment this important should be remembered forever. An accessory she can wear every day in honour of her graduation is something a lot of girls and young women would love. The importance of this day can be told in lots of different ways by choosing the right gift.

The most classic graduation jewellery is decorated with the symbol of an academic cap, which is worn in some countries at the graduation ceremony.

A ready-to-wear Composable bracelet celebrating this special event is classic jewellery that can be worn on every occasion. One of its Links is decorated with the traditional graduation cap in black enamel, alongside a stunning four-leaf clover in gemstones to wish the wearer luck and a bright future.



A single touch of gold and sparkling black gemstones decorates our second Composable graduation bracelet: it's the right choice if you want to give a gift that can be personalised by adding new Links and which begins their story on graduation day.
Want something commemorating graduation but not necessarily through traditional symbolism such as the cap and gown? We've got just the thing. Graduation day is, after all, a celebration of the new graduate, her talent, and her brilliance. The perfect gift? A stainless steel bracelet embellished with tons of stars: that shine as bright as she does!.
The academic cap, the most recognised symbol of graduation day

Having now become the traditional symbol for graduation, the mortarboard or academic cap was part of the official academic uniform worn on formal occasions in certain countries, especially in the Anglo-Saxon world. In these countries, it was customary for the cap and gown to also be worn in class by university students, not just by the lecturers and professors. Over time, the use of the cap and gown has been relegated to only the most important occasions, such as the graduation ceremony.



Colourful jewellery for vivacious girls and women

Is the friend who's graduating very lively and energetic? Someone who's always on the go and doesn't stop for a minute? Then the right way to celebrate her graduation is to choose jewellery that matches her personality: original and colourful.



Our second suggestion: a bracelet with precious gold finishing that celebrates the many wonders of life. "Bella La Vita!" is the perfect engraving to give to a recent graduate who's sure to carry out her many plans for the future with invigorating energy.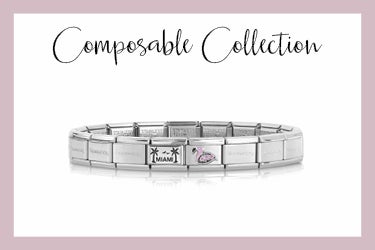 The four-leaf clover, always a good luck charm

Since ancient times, the four-leaf clover has been considered a symbol of good fortune. Ancient civilisations associated it with good luck because it was very rare to find one among the beds of the common clover. Over time, we've attributed specific meanings to the four-leaf clover, and in many traditions it's said that each clover leaf symbolises a particular quality: true love, health, reputation and wealth.Some claim that carrying a four-leaf clover with you will protect you from evil spirits. Today the belief that the four-leaf clover is a good luck charm is more popular than ever.



A new life as a graduate: sophisticated jewellery

Graduating means finishing your studies and often aleaving behind your student lifestyle in favour of a new way of life. The perfect graduation gift for an amazing young woman could be an accessory that helps launch her into this new world: as a professional, entering the workplace and starting to build her career little by little.

A woman entering the workforce deserves sophisticated jewellery she can wear to work and to important work events. What accessory is more appropriate for a woman with class than an elegant watch with a stainless steel wrist strap? The watchstrap is customisable with Composable Links, which add a chic touch to your watch with symbols, gemstones and charms.



The most classic jewellery worn by the most sophisticated women are certainly pearls: why not give your recently graduated friend delicate earrings decorated with white pearls? A contemporary version with half-circle hoops is the perfect combination of fashion and tradition.