Time to open Christmas gift is almost here! Still not finished your Christmas shopping to buy all the gifts for friends and relatives? You still have some time to complete your shopping, don't panic!

Let's think about the present for your mother-in-law: how can we surprise her on this Christmas 2017? Jewellery always is a good idea: you just need to choose the right one, to highlight her class lady femininity!

Ecco la nostra top 4 con i gioielli perfetti da regalare a Natale alla suocera!



#1 A precious ring

Pure white pearls always are a symbol of class and elegance, even when they adorn some modern jewellery. Brilliant stones please every woman and enhance with femininity the beauty of each one of them.



What to give your mother- in-law on this Christmas 2017? The Bella Moonlight Ring! A piece of jewellery in refined silver, enriched with a pearl and a brilliant stone to light up on any occasion the look of an elegant woman!
#2 A bracelet to compose

To really surprise your partner's mum, choose a modern piece of jewellery, to compose as you like thanks to our Composable Links.

You can create a personalised bracelet that celebrates family, thanks to the precious Link dedicated to this theme: the one where "I love Family" is engraved is a perfect very special Christmas gift for your mother-in-law.

Are you looking for a truly unique present on this Christmas 2017? Then, choosing a jewel to be personalised with an engraving will be the perfect idea: your Christmas wish will decorate the yellow or rose golden or silver Links you can add to the Composable bracelet for your mother-in-law.



#3 Personalised watch

If you prefer a more classic accessory, a watch always is a good idea. What about choosing a more original model, a customisable one depending on the woman who will receive it?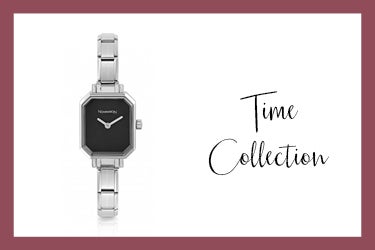 #4 A gentle necklace

The choker: an accessory with a timeless charm, gladly worn by any woman throughout history. The perfect Christmas gift for your mothe-in-law could really be a necklace, maybe a linear and elegant one, adorned with small and elegant Cubic Zirconia.



If you think that way, the gift for your mother-in-law on this Christmas is the necklace from Bella Collection with heart shaped zirconia, available with finishes in silver or rose gold!