Can you hear those sleigh bells ringing? Christmas is just around the corner! Just picture the tree glittering with fairy lights, tinsel and baubles, and surrounded with presents. Looking for Christmas gift ideas? If you want to give something a little bit special, you can't go wrong with jewellery for Christmas! So check out our selection for inspiration. You're sure to find the perfect piece to get your girlfriend for Christmas or that special something to make him smile!
CHRISTMAS GIFTS FOR HIM
# A PERSONALISED GIFT – THE COMPOSABLE BRACELET
When you're choosing your gift, think about his likes and loves, what he's passionate about, or a memory that always makes him smile. Add a little of your own creativity and have fun picking out the Composable links to put together a fab bracelet for your man!
# CASUAL CITY CHIC – METROPOLITAN JEWELLERY
Are you drawn to his contemporary, edgy style? Then here's the gift for him that you've been looking for: jewellery from the Metropolitan Collection! Elegant steel and enamel cufflinks, tough-yet-sophisticated bracelets and geometric necklaces.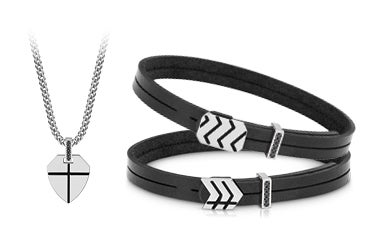 # SIMPLY IRRESISTIBLE – MYCHERIE JEWELLERY
The best Christmas gifts for her are the ones that promise future happiness, remind her of your relationship and that are as beautiful as she is. The iconic MyCherie bow, in delicate, feminine hues of rose gold, symbolizes the love that links you together.
# THE MAGIC OF CHRISTMAS – ANGEL JEWELLERY
What could be more festive than gold, silver and angels? Give her a magical and utterly festive gift with the necklaces, bracelets and dangly earrings from the Angel Collection, all featuring a delicate wing motif.You'll also find countless beautiful variations of the romantic MyCherie bow and pretty Angel wing in the special Christmas Composable Collection.
CHRISTMAS GIFTS ON A BUDGET
# CLASSY YET CHEAP CHRISTMAS JEWELLERY UNDER £100 Even on a budget, you can still make dreams come true! Discover our selection of pieces of jewellery under £100 for gorgeous gift ideas to make a loved one smile this Christmas. Purchase your Christmas gifts on our official site. You can even add gift wrapping and include personalised festive greetings with a little Christmas card!