Summer is the most beautiful season to celebrate a wedding: all its coloursand scents, the sun is shining and the cheerful atmosphere typical of the warmer months make this moment even more special.

Before thinking about the joy and fun of the ceremony, usually among the guests, maids-of-honor and bridesmaids the most classic question of all the great occasions floats around: what do I wear? Not only the bride and groom, but also the friends and relatives who share with them this moment must be impeccable: the dresses and accessories must be chosen and matched with great meticulousness.

But how do you do it? There are so many rules of etiquette as to what wedding guests should or should not wear: but on important occasions like this, we really want to feel special! Especially when the ones getting married are people we are very close to.

Here's a little guide to choosing the right dress and matching the perfect accessories: the colours, the lengths and the right jewellery to feel wonderful at an important ceremony.
Bon ton rules: what should guests, maids-of-honor, and bridesmaids not wear?

Often considered too restrictive and somewhat outdated, bon ton rules for important occasions like a wedding give precise indications on what the guests, maids-of-honor, and bridesmaids should not wear on a friend or relative's wedding day.

The first rule is the one concerning the colour white: during the wedding, in fact, this hue in all its shades is reserved for the bride, the undisputed star of the ceremony. Wearing it would be almost an offense to the bride, according to etiquette, as it would almost be like stealing the show. It is forbidden, therefore, to wear long or short dresses in this colour, as well as pants, skirts or tops.

As far as black is concerned, opinions on its presence in the outfits of guests, maids-of-honor and bridesmaids are divided: traditionally, black is considered to be a very gloomy colour, unsuitable for joyful moments like a wedding. In recent years the matter has often been reconsidered: in the end a black dress is extremely elegant, it enhances every type of body and is a real hymn to modesty.

"Modesty" is just one of the slogans when you have to go to a wedding. The bon ton wants guests, maids-of-honor, and bridesmaids to not wear overly bright colours or accessories and dresses that are too flashy: veils, extravagant hats, glitter and sequins are forbidden.

This is the general rule. If the bride manifests conflicting desires or defines the dress code of the ceremony when sending out the invitations, everything can change!
Matching approved dresses and jewellery for a wedding

Let us now move on to the approved choices for the guests, maids-of-honor and bridesmaids' outfits at a wedding. So far we've talked about forbidden colours and sobriety: what are the perfect colours for a dress to wear for a summer wedding? The time of day when the ceremony is held is crucial in choosing.

A morning or early afternoon wedding is the ideal occasion to show off pastel colors: delicate and cheerful, perfect for both long and short dresses. What are the most trendy colours for formal summer dresses? Sun yellow and the warm tonality of orange are perfect for attending a cheerful wedding, as well as more minute floral prints, on gorgeous chiffon dresses or other light fabrics. To be safe, blush pink or delicate shades of sky-blue will be perfect in all cases: short dress or long, or a pantsuit.

What kind of jewellery should you match with this type of dress? Of course, modesty is always the rule: jewellery should be basic, characterized by clean lines that enlighten the look without being excessive.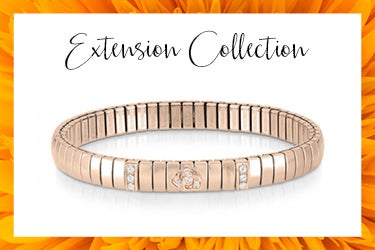 If you choose a dress in warm yellow or orange tones, the perfect option for a classy outfit (without making it too serious) are bracelets in equally warm golden tones: yellow or rose, with the surface of the precious metal enriched by brilliant small stones.
For a pastel-colored dress in the shades of sky-blue or pink, the bracelet to wear can have two different characteristics: draw from the delicate colours of the dress or add a little pizzazz, choosing vivid and contrasting coloured stones.



Any suggestions? The La Vie En Rose Blue Composable Bracelet alternates snowy pearls and on sky tone floral links: here is the perfect choice for a bon ton outfit in which the colours are all in perfect harmony with each other.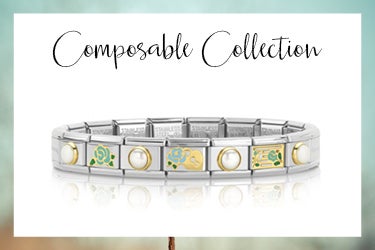 The exotic touch of the Cashmere pattern and its bright colours are the right option for those who want to make their formal outfit truly memorable: the Composable Cashmere Formal Bracelet, with its theme links and coloured jades, is the fashion accessory to give a pastel-colored gown something extra.

The issue is different if the ceremony takes place in the evening. In this case, the darker colours are well received, as evening weddings are usually occasions where a touch of extra elegance is required. The perfect solution for these cases is a long dress: light and not too lavish, it can be chosen in shades of midnight blue, emerald green or gray tones, three of the favorite shades for the most chic summer outfits.

In this case, jewellery to pair with the dress should illuminate the darker colours chosen for the evening ceremony. So jewellery with glittering crystals are perfect: even in this case, the best choice is one that has clean lines. For a truly sophisticated look, one must remember a rule: choose one piece between earrings and necklace, except in cases where earrings are small diamonds. How do you choose which ones to wear?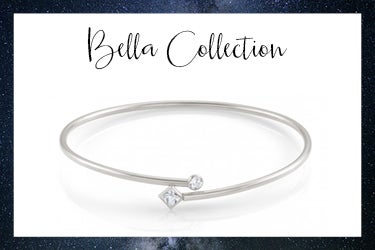 In this case it is rather simple: low neckline dresses require a necklace that decorates both the neck and cleavage, while for those with a higher neckline the best effect is obtained by favoring long earrings: Bella Collection from Nomination can offer the right piece no matter which dress you choose.
The essence of jewellery can also be transmuted into geometric form charms: which are extremely refined with clean lines and fine chains of silver and yellow and rose gold. Ovals, rhombi and delicate hearts adorn the Unica collection jewellery which includes bracelets, necklaces, earrings and rings enriched with brilliant stones: these are the pieces to wear for a contemporary, elegant look that will certainly not go unnoticed by the party guests!
What about him? What are the right accessories for men at a wedding?

So far, we have only talked about accessories and jewellery for bridesmaids and wedding guests: but what should he wear to be impeccable for an important ceremony?

When the wedding is held in the summer, in the morning or early afternoon, one accessory that you can not do without is sunglasses. One might wonder if choosing to wear them is too casual: just opt for a classy model with dark lenses and frames that will protect your eyes from the sun's rays during the hottest hours of the day.



Those who love elegance in its most classic form, could choose to adorn the cuffs of your shirt with cufflinks.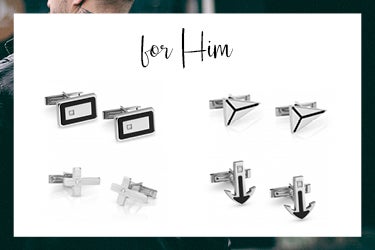 The most traditional of men's accessories are reinterpreted in a modern way through the models offered by the Class, Monte Carlo, Metropolitan and Steelikons collections from Nomination:: each one features details made of enamel and stones that give each piece an unmistakable style.