Red: It's the colour associated with those of you born under the sign of Cancer and it's one of the trendiest colours for Summer 2017... Another sign that July's arrival marks a spectacular season for anyone who's a Cancer! This warm tone, reminiscent of fire's heat and strength, just might be the perfect inspiration to revitalise and rekindle your passion. So make sure to wear gorgeous red jewellery, or add the birthstone for the month of July, the ruby, to your Composable bracelet. As Apollinaire wrote, now is the time to "pause in our pursuit of happiness and just be happy."
CANCER'S BIRTHSTONES



RubyFull-on passion enclosed within a precious stone. The gemstone for the month of July is a symbol of courage. Wear it and show off your zest for life!


Red Agate
As do all stones of this colour, red agate gives strength, self-confidence, and faith in others because, as we all know, the best kind of happiness is contagious!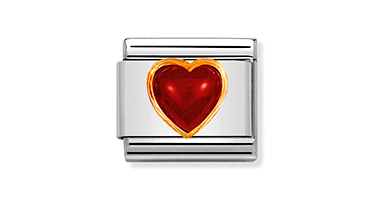 THE PERFECT JEWELLERY FOR CANCER



For Her It will definitely be a passion-filled summer for the Cancer woman, so why not celebrate with jewellery covered in little heart pendants for a touch of romance that'll get you noticed at the hottest parties this summer? A bracelet or necklace from the Unica Collection is just what you need!
For Him
During the summer, men can also be a bit more daring with their look and add colourful pop details. So the Cancer man can personalise his Composable bracelet with the stones of the month and the symbols which best represent him, giving life to a one-of-a-kind accessory that's super cool!