We are well into fall and winter is nearly at the door: the coldest seasons of the year are here. If you usually think of this time of the year as mostly gray days, this time you need to put that sad view away: Autumn-Winter 2017-2018 is based on colour!

Bright colours, extravagant prints and eye-catching accessories: there is no doubt, fashion trends for fall-winter this year are funner than ever! Colour, in particular, will be a key element for the most fashionable winter outfits: need any pointers?

Let's discover the fashion colours of the season, how to wear them and what accessories to choose for a look that is all the rage!
A timeless classic: red

The fashion colour for autumn-winter 2017-18 is undoubtedly red, a vibrant colour that is daring and never ordinary, like an all scarlet look. From masculine pantsuits, to long overcoats and accessories, shoes and handbags included: everything will tinge of this nuance, to wear in all its shades.

From coral to carmine, from cardinal to burgundy: in short, all that is left to do is choose the splash of red we like and flaunt it all day, to cheer us up on rainy days or brighten the darkest nights. If you do not want to dare too much with color-blocking, you can choose to brighten your very neutral coloured look by wearing red accessories.

A good option to wear red is to do it through jewellery: what about a bracelet decorated with red stones or charms in scarlet enamel?



The Composable Classic Wedding Bracelet incorporates the splendor of white Cubic Zirconia stones with sweet symbols painted in red enamel: for a precious bracelet that represents all the best moments in a couple's life.
Alternatively, opt for a combination of colour and precious metals. Any suggestions? Red and rose gold: a match that is hard to beat to choose for details of your Extension Bracelet, a piece to wear any time of day. The large faceted red stone is the feature of this steel bracelet, enriched by elegant plates in rose gold. To be worn together with other bracelets of the same shades for special occasions.



Do you want to personalise your Composable Bracelet in line with fashion trends for fall-winter 2017-2018? Choose some of the precious Links with scarlet details, such as those enriched with brilliant stones. Choose your favorites and create your own personalised bracelet!
Yellow that warms up each day

The second shade of the season is another primary color: yellow, shiny and cheerful, to match with classic black or neutral nature colours to liven up every outfit with great class. Yellow, as opposed to red, on high-fashion runways for autumn and winter is chosen for a single garment or an extravagant accessory, which will immediately become the focal point of the look.

Even in this case, accessories and jewellery with yellow details could be the right way to wear this brilliant seasonal color.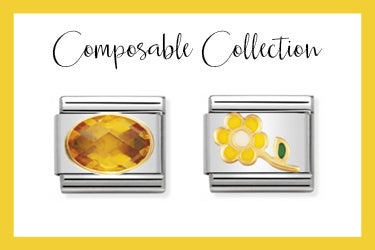 A steel bracelet embellished with a large yellow stone is the right choice to subtly brighten any outfit: add it to your Composable bracelet and wear one of the most beautiful fashion colours of the autumn-winter 2017-2018 season!
Did you know that floral prints don't go out of fashion with the arrival of the cold season? If you think that flowery and colourful garments are to be worn only in spring then you are wrong, because for this season flowers will decorate all the most beautiful outfits.

In particular, jewellery and accessories are most suited to fill a look with colourful flowers: why not indulge in two of the most fashionable seasonal trends and choose to embellish your look with yellow flowers? Here is a Link with Yellow Flower to add to your Composable bracelet in the latest fashion.

Opt for classic yellow gold to wear this brilliant colour with class: the Bella la Vita Bracelet will satisfy even the most demanding women!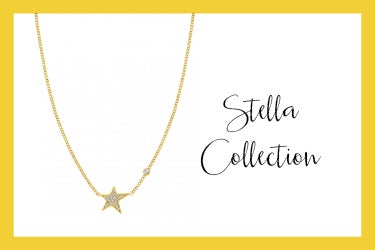 This autumn-winter elegance is dyed in blue

As far as colours go, we all know that Pantone is the world's authority. What, according to the leading colour expert, is the nuance that will even replace classic and elegant black during the next autumn-winter season? Blue, or even better, Navy Peony.

We are talking about classic and timeless Navy Blue, offered this season in a more delicate shade, which allows it to match any other seasonal colour: that is why it is thought that it could even replace black. How can you liven up outfits created with Navy Peony? By combining jewellery and accessories with blue details!



The accessory that never goes out of style is a watch, which should be chosen with a blue face: the stainless steel band is customizable with Composable Classic Links so you can transform your accessory every season.
Choose elegant charms decorated with blue details so you can look perfect on any occasion with your shining steel bracelet: a romantic blue heart-shaped stone to sparkle on the most special evenings, the charm with delicate cashmere decoration, for an exotic and extremely alluring touch.

How can men interpret this fashion colour? Accessories will also be the protagonists of the biggest men's fashion trends for fall-winter.



A modern accessory is what is needed for this cold season: the Trendsetter steel bracelet finished in elegant PVD blue is the men's bracelet that is right for outfits that are either casual or very chic.
Stay up-to-date on the latest fashion trends on our blog!