Grey skies, falling leaves and umbrellas... November can feel a bit miserable, but those born under the sign of Scorpio won't be deterred, always finding new reasons to be cheerful. The style horoscope reveals style tricks to brighten up even the greyest of days. Gorgeous pieces of jewellery from the latest collections will fast become essential accessories to make Scorpios sparkle and feel even more special.
Black OnyxScorpio is one of the most intense zodiac signs, and this innate magnetism is reflected by its deep black birthstone. People born under Scorpio can be stubborn and headstrong, but their hearts melt when they fall in love!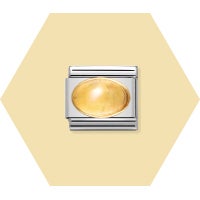 CitrineUsually lemon-coloured, this stone can also be found in bright yellow or brown. It's a symbol of vitality and creative energy – so it's perfect for Scorpios, who are known for their passion and determination, even in the face of adversity.
THE PERFECT JEWELLERY FOR SCORPIO
FOR HIM
Classic, ideal for any occasion and très chic! A style icon that exudes contemporary charm, and customisable to boot... stand out from the crowd with the SteeliKONS bracelet!