The 50th birthday represents a really great goal and should be celebrated as best you can. Whether he's your best friend, dad, brother or life partner, it is important to find the perfect idea, the gift meant to be a beautiful memory, to take everywhere, not just during the day, always over the years.

Nomination can help you with its special men's jewellery collections.



Gift ideas for an amazing 50 - year–old man


Here is a small gift list to inspire you to make a nice present to a man in your life who is turning 50.



A customised bracelet


50 years of wisdom, charm, charisma and generosity, what better gift to celebrate a special person than with a man's bracelet?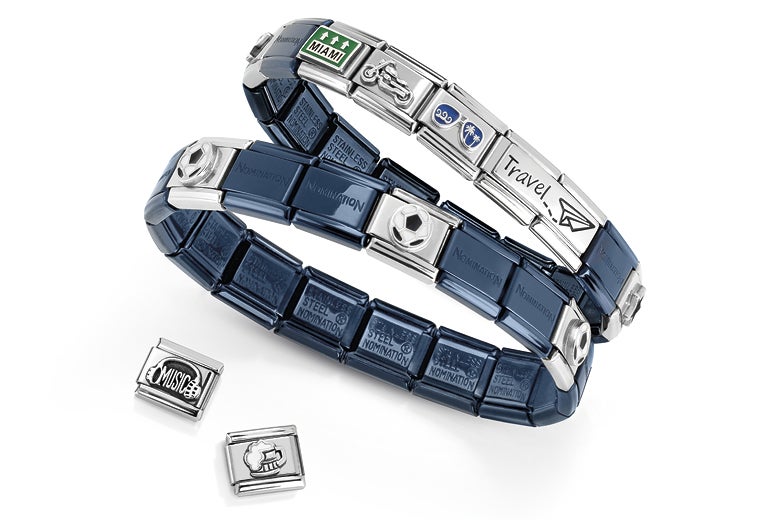 Nomination gives you plenty of ideas to meet many different styles - minimal, casual, vintage, sporty and trendy - and the possibility to customise a bracelet, to make it as the exact portrait of the wearer. Our Nomination composable bracelet is perfect to be created with special tiles able to fully represent his personality. Start your creation, now!



Have you often spotted him browsing the internet looking for information about aches and pains, even when he looks better than you? Does he always know the remedy for any illness, although he's not a doctor? The Composable Classic double Link with Medical Tag is definitely the Perfect Tiles to start composing his Nomination bracelet.

If he's your sweetheart and also an incurable romantic then you can fully share this special day together, giving him and treating yourself with the Links of #oneformeoneforyou new collection.

Do you want a proposal for a special couple just like you? Than choose our special Links with the inscriptions "Soul" and "Mates" in 925 silver featured by a vintage character. And if he's your business partner or your best friend since you were kids, the perfect Link has the inscription Partners in Crime, so ironic and simply perfect! If you prefer something classic, Nomination has designed the simple Composable Classic double Happy Birthday Link.

. If the style you are looking for is casual and minimal, the bracelets of the Trendsetter Collection composed of the classic Nomination Composable bracelet and an engraved link are the perfect choice.



A watch to suit every occasion


Brad Pitt- noteworthy 50-year-old man- said that turning 50 gives you a great sense of freedom. You feel free to focus only on what really matters for you, because you become much more aware of the flow of time. Speaking of time, a watch is always a perfect gift for men of all ages.

If the amazing 50-year-old man is a person with a casual style but who exactly knows when it's time to be elegant, a Nomination watch with a black silicone strap, sunray steel case and dial is the perfect gift.



A necklace with a very important meaning


Do you think he'd prefer a necklace? If he has been your anchor and your safe harbour when the sea of life was very stormy, tell him for his 50-years birthday through a jewel from the Atlante Collection.

Pick up the polished steel necklace, also available with a black PVD finish featured by a vintage effect. A personal touch? An anchor icon set in the necklace.



A keychain to always keep in pockets


A gift for a friend, a brother or a special person must be always carefully chosen. Even men's accessories are not to be underestimated. For a 50-year-old free-spirited man, a lover of travel and adventure, the keychain for man in steel with a coloured stone from the Voyage collection is the gift to always take in his pockets to remember to never stop and keep on exploring.


You can also add a pair of cufflinks for men. Choose the model from the Voyage Collection, with the symbol of the wind rose in gold and black hematite. The perfect present to celebrate his 50-years birthday with a romantic dinner.


It has been said that 50 is the new 30, and it's important to celebrate the best possible way with a special gift from the heart. Get inspired by Nomination's men's jewellery collection.