Summer is reaching its splendid peak the time has come to set off for your longed-for holiday! Do you prefer the sun, the sea, relaxation or maybe a tour itinerary featuring cities and museums? Whatever your destination for the summer holidays, show the world with your accessories. Create a summer bracelet that represents you: Composable Links tell the story of your summer travels, the destinations you have visited, and your most exciting holiday activities.

What will be your destination for your next holiday? Tell the world with Composable!



Travels on the road in the USA

Some people love cars and driving; journeys that are gradually defined as they are experienced, stopping every now and again when something catches your eye. Do you recognise yourself in this description? If so, your summer holiday will surely be a road trip: adventurous, without a fixed itinerary but rich in emotions.



The United States have always been a favourite destination for journeys of this kind: from San Francisco to Phoenix and then on towards Texas, before finally reaching the paradise of Florida and arriving in Miami. Tell the story of your on the road trip with your summer bracelet: the Composable Link will guide you all the way to Miami!
Sea, sun and plenty of relaxation

On the other hand, maybe you prefer holidays that are completely dedicated to relaxation without any worries at all? If so, your next summer holiday will surely take you to a seaside, destination, where you can lose yourself in the bluest waters imaginable as you relax on the beach.

What location will you choose for your next summer holiday? A small but splendid town on the Mediterranean sea, where you will find stunning landscapes as well as history, culture, folklore and good food? Or maybe you prefer more exotic locations, where you can sunbathe on pure white beaches, in the shade of a palm tree and surrounded by lush, tropical vegetation?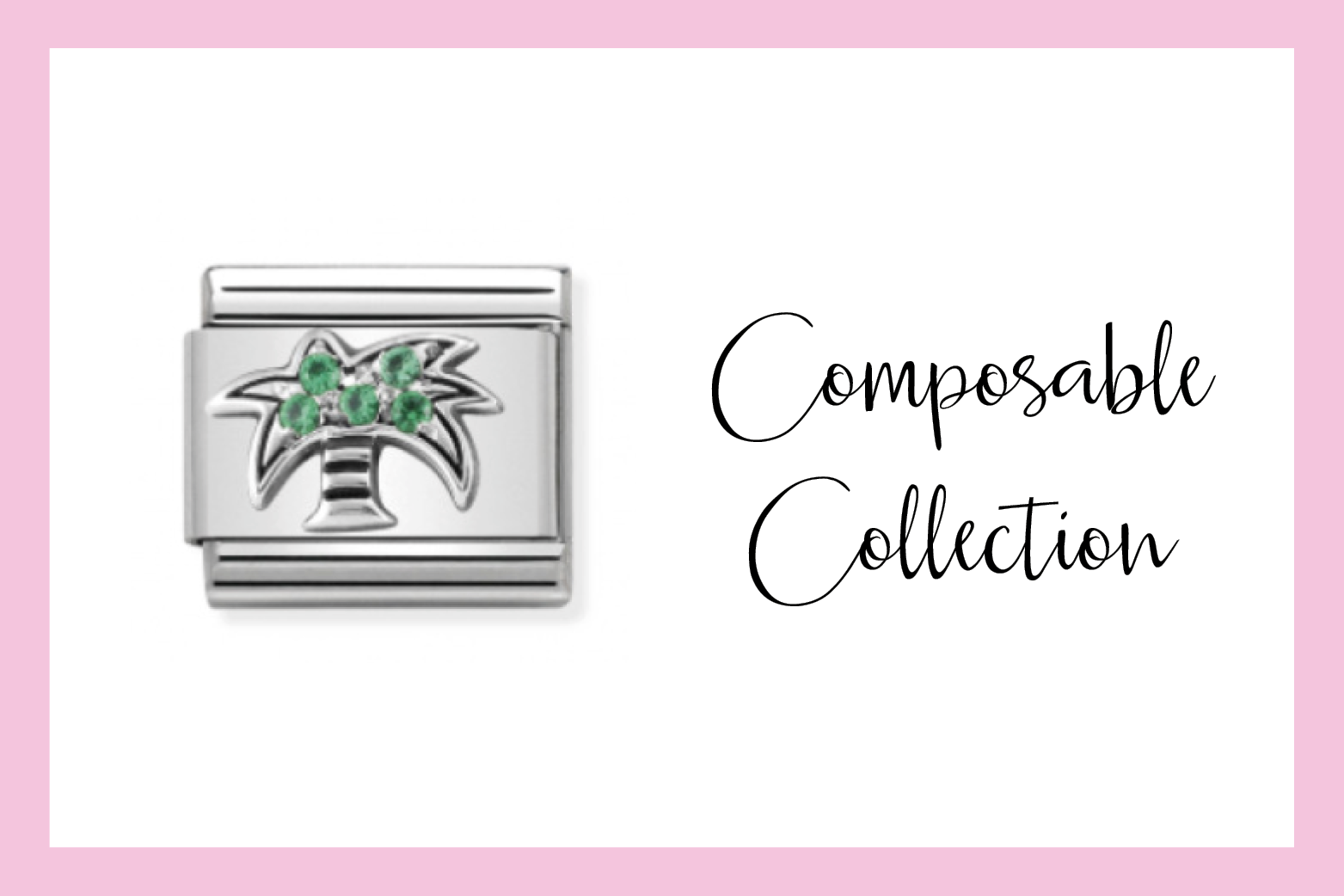 For every seaside holiday there is the perfect summer bracelet: the silver crab is the perfect charm for a Mediterranean holiday while the palm tree can be the centre-piece of a coloured bracelet to be worn as a memory of an exotic holiday.
Holidays with friends: on-trend jewellery to remember the summer

Sooner or later in life, we will all enjoy a girls holiday with our oldest friends perhaps to mark an important event such as a birthday, or a reunion after many years. Treating yourself to a spectacular holiday is a fundamental step in the friendship between girlfriends!

A holiday completely dedicated to having fun and to the bond between friends: long aperitifs on the shore, parties and bonfires on the beach, shopping in the city and endless chats. Which is the city of your dreams for a holiday with your friends?



A coloured, summery bracelet chosen for a whole group of girlfriends is the perfect souvenir for such a holiday: the Composable Miami bracelet with flamingo is a fun piece of jewellery for you and your friends!
Culture, landscapes and city excursions

Are you neither a true fan of seaside holidays, nor of on the road adventures? If this is the case, then you must love city breaks: history waiting to be discovered, museums to be explored, city strolls, and typical cuisine to sample.

Discovering a new city is always an adventure, to be enjoyed at a relaxing pace so that you can explore the location in its entirety. What do you think to a lovely holiday in France? Not just Paris and its extraordinary beauty, but also the Côte d'Azur or Champagne, for those who love hills, mountains and green landscapes.



I am an adventurer: all I need is a road ahead of me!

The destination doesn't matter: the important thing is to set off! If you recognise yourself in these words, then you are probably an adventurer who can't stay put in the same place for long You love to travel, travel, travel and try and get to know the incredible beauties of the world one by one.



The Composable Travel bracelet with black stones is dedicated to those travellers who don't yet know what the next destination will be, but who are certain that they will set off as soon as possible. Because travel is always extraordinary!
But summer is also a time for children: coloured bracelets for little ones

During the summer, children are also finally able to enjoy their holidays: no more school and homework, just plenty of time to have fun with family and friends!

Little ones also need a small souvenir to carry a little memory of this summer with them when the holidays are sadly over. A coloured bracelet in a summery style is the perfect choice. Composable is dedicated to all children, because these bracelets can be personalised even in terms of length, and can be adjusted even for the smallest wrists. Simple and colourful, the Bracelet with enamel flamingo is perfect for children – but also for adults. Choose the Bracelet with 'Girl' written in gold lettering for her, or the version with a 'Boy' charm for him. Would you like to add a splash of colour to the bracelet? Enhance it with a birthstone!