Rose gold is a metal that has only received great attention in recent times. Until a few years ago, the preferred metal for jewellery was gold in yellow tones or silver, while the alloys created with copper represented a niche for precious creations.

Things have changed over the course of the past few fashion seasons, however: rose gold has increasingly taken on a prominent role, rivalling yellow gold and silver, and becoming a real trend that has invaded all areas of fashion. This delicate metal with warm tones is not only the preferred shade for jewellery and accessories to be showcased with every outfit, but has also become the preferred shade among women and girls for items such as the iconic leather stud, reinterpreted in rose gold for a more glamorous look, for evening clutches and dresses, and even for hats, for women who love to be daring in the creation of their own look.

And it doesn't end here: rose gold has suddenly found its way into the male wardrobe, appearing as a detail that enhances accessories and jewellery items.

Are you still unconvinced? Here are all the ways that rose gold can elevate an outfit for any occasion, both for him and for her.



Jewellery in rose gold for her: accessories for every occasion

How can rose gold be worn with all outfits for an everyday look? A metal like rose gold, with its warm glow, can become the key to elevating any look whether for daytime or for an evening event.



You can pair the watch with a steel bracelet finished in the same shade of rose gold. An adjustable bracelet is the perfect choice if you are looking to create a sophisticated, elegant and minimalist look. The solution? A Composable bracelet featuring your personal birth stone , where rose gold links are enhanced with a small, coloured touch.

Bangle Bracelets are an excellent alternative for a day look, perfect both for outfits to be showcased at more formal events, such as work, and for more fun outfits, reserved for free time. Rose gold pairs perfectly with many different colours, from the most neutral, such as white, grey and black, to green and other warm shades. The choice depends on the effect desired.



Essenzia Bracelets are perfect for pairing with day dresses: layer multiple bangles in different shades to create a lively style, or wear a single bracelet for a more essential look.
And for evenings and special occasions? How should rose gold be worn? Bracelets, rings and earrings in this metal will add a precious detail that will elevate any outfit: you just need to make the right selections!

The perfect look for a special evening event is sophisticated, elegant and truly chic. The key is simplicity: a refined outfit does not try to bring together too many elements, but creates a perfect sense of balance between a few items. A dress with simple lines but in a precious fabric, a clutch that adds sparkle, especially in dark colours, and a shoe that enhances the dress without overpowering it.

And what about jewellery? Opt for delicate details, which add the right touch of sparkle to the outfit of the woman who wears it.



If the evening is less formal but still demands a special, eccentric and fun outfit, rose gold is the perfect metal for a few lively details that will give personality to your outfit. Long earrings in rose gold, enhanced with a large star and zircons, are the perfect accessory for an outfit with a rocky look, maybe paired with a gathered hairstyle that emphasises the face.



Alternatively, rose gold is a great metal for charms and pendants to decorate a bold steel bracelet: the Link with a wing is perfect here.
Details in rose gold that will elevate his look

If you think that rose gold is reserved just for women, you're wrong. This metal has become a frequently-seen detail in men's accessories, making all the difference when selecting jewellery pieces to pair with everyday outfits.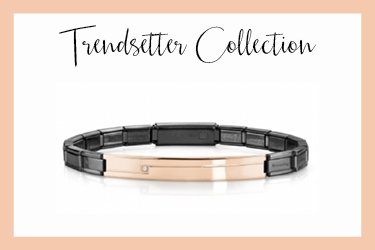 A bracelet in dark steel immediately becomes chic when it is enhanced by a detail that is rose gold in colour and adds a little glimmer: a subtle accessory, perfect for pairing with all smart casual outfits created for work or for daytime events.
An alternative way to wear rose gold as an accessory that will elevate a man's outfit is to choose small details in this metal for symbols and decorations on bracelets and jewellery pieces.