Ultra Violet: it's THE colour this year, as proclaimed last December by Pantone. A vibrant and energetic shade that "communicates originality, ingenuity and visionary thinking that points us toward the future", according to the official announcement for the Pantone colour of 2018. It's just what our world needs, inventiveness and imagination.

The Pantone colour carries with it a lot of intrinsic meaning that goes beyond being simply the latest trend. The colour conveys meaning that's much more profound than you'd expect, and designers all over the world have to know how to use this energy to inspire and influence us according to the objectives set out on Pantone's website.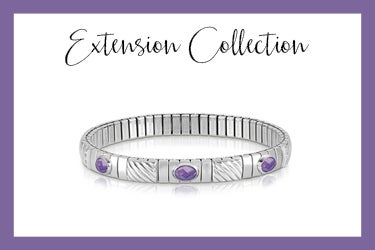 What's certain is that each year's colour becomes an instant trend and its hue pervades every domain, from fashion to design. How do you wear the Pantone 2018 colour? What are the hottest accessories for each occasion? Let's take a look!
Ultra Violet Total Look

One trend we've been seeing on the runway the last few years and that's among the chicest in street style is the total monochromatic look. Matching pants suits and shoes, dresses and accessories in the same hues, and so on: all black doesn't count because the key word is "colour". Past seasons had us flaunting head-to-toe scarlet and bold shades like cypress green, but this spring-summer season it's all about violet, or rather ultra violet.

The only rule is to be daring: after all, an ultra violet total look certainly won't go unnoticed. For a tone-on-tone work of art, not only does your entire outfit have to be violet, but so do your accessories: Remember the look Rihanna posted on Instagram shortly after the Pantone Colour of 2018 was announced?
Violet touches to brighten up your look

The monochromatic look isn't for you? No worries, the Pantone Palette that includes Ultra Violet is quite vast. This particular shade of purple works well with a lot of colours, starting with neutral shades and ending with the most extreme: all shades of yellow, fuchsia and turquoise too. And it's evident from the Spring-Summer creations we're seeing from the top designers: violet and it's many hues will be the accessory accompanying the hottest outfits.

Cream or blush coloured blouses and short dresses are enhanced with vibrant violet: abstract artsy designs, delicate flowers, needlepoint embroideryare the biggest trends of this breathtaking season dedicated to Ultra Violet.

The same goes for accessories: bold violet gemstones and details highlight key necklaces this Spring-Summer. Ultra Violet is the perfect way to jazz up our silver jewellery: build your personalised bracelet for next season with Composable Links in all the many shades of purple.



Ultra Violet even for your most elegant outfits

You're wrong if you think bold, bright colours can only be worn in casual, daytime settings. It's not the case with Ultra Violet, at least. A silk or taffeta dress in this colour casts a thousand different shades which illuminate the face and skin in a new light: the perfect choice for an outfit to wear to a big event or for an important evening out.

And because Ultra Violet looks good on blonds, redheads, and brunettes: all you need to do is choose the right outfit or accessories for the occasion and the look you're going for. Ultra Violet handbags and purses are perfect for the woman after a fierce look that's classy. Wearing matching pumps or booties in the same shade is even better.

For an exclusive party or super chic evening out, the accessory in Pantone 2018 we suggest is a glitzy bracelet



For younger women, the rule is to be daring with a fun charm, like the Swarovski butterfly butterfly that adorns our stainless steel stretch bracelet.