Men's accessory: how should they be worn? Men's jewellery plays a fundamental role and can completely revolutionize an outfit's impact. Each look and occasion requires the right jewellery: they're not all the same! For chic events, elegant jewellery in precious materials like gold is perfect, but lavish accessories aren't necessarily always the way to go. When you want to look your best in your day-to-day, what jewellery should be paired with casual outfits?

If you're plagued by doubts on a daily basis, you've come to the right place: we've created a mini-guide to men's jewellery just for you, to learn which accessories to wear for each occasion, and how to pair jewellery with all your looks.



Exclusive events, impressive jewellery

Weddings and ceremonies, chic evenings and gala dinners require exceptionally elegant outfits, planned down to the last detail. On these occasions, the accessories make the man. Obviously, your jewellery must be chosen with taste.

If we're talking about ceremonies and other formal events, the menswear probably involves an elegant suit or tuxedo: which jewellery is right for a classically cut suit? The rule to always being elegant is don't exaggerate.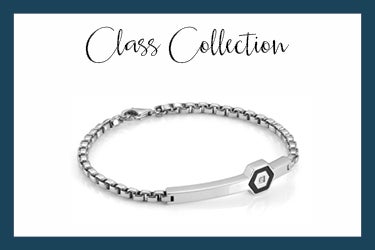 Overlapping or piling on lots of jewellery doesn't enhance any one piece and actually just creates confusion with too many elements put together.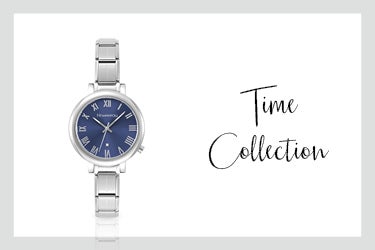 At the office: which bracelets?

In the last few years the unwritten rule for workplace attire has become less and less strict: your office look must be sharp, yes, but not excessively formal. That's how smart casual, style was born, where classic elements, such as sports jackets and button-up shirts, are combined with what's typically considered urban wear: sneakers, jeans, jogging inspired pants, t-shirts and polos.

All together it creates the perfect equilibrium for a modern men's look that's classy but less stuffy and more comfortable. In this case accessories are fundamental and help complete the outfit with a bit of attitude.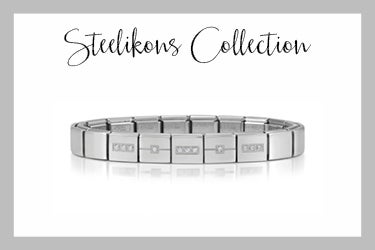 The men's accessory par excellence, the watch, in this case can be chosen in a fun, colorful version, like one with a fabric watchstrap.
Our suggestion for a really individual look is to choose a watch with contrasting colors in relation to your outfit, or which highlight a particular detail, such as the red stitching, or a blue pocket square.



Everyday wear: free your style!

Stepping away from formal occasions and the work environment, your look really becomes a way to express your personality: accessories play a major role in doing so. The rules are more relaxed, and combining several carefully chosen items can create a really powerful look.

Stainless steel is the perfect material to wear in your everyday life: classic or burnished, this metal is resistant and very versatile, and can be manipulated to create accessories with innovative shapes.



Need some examples? The Trendsetter bracelet in stainless steel with elegant black or gray finishing is decorated with two side-by-side ropes engraved on a plaque.
For those whose style is more rock and roll, stainless steel bracelets for men provide opportunities to enhance your outfit: from the Mixit chain bracelet to the burnished Steelikons bracelet, with pyramid-shaped studs.

Or you could choose a bracelet that really says something about you, like the personalized Composable bracelet. A big trend in men's jewellery is colored gemstones, which add a touch of pizzazz to your everyday look. Choose the birthstone of your zodiac sign, if you're looking for a fun accessory that shows off your personality.

And what about necklaces? It's the perfect accessory to match with t-shirts for a look that's casual yet planned down to the last detail. To enhance your outfit with unique jewellery, choose one of the stainless steel necklaces you can customize with an engraving. Class necklaces offer pendants in geometric shapes, such as rectangles and hexagons: the front contains details in black enamel and brilliant gemstones while you can inscribe your message on the back. For a look that's truly original!

Now that you've learned all the rules for matching jewellery with your outfits, want to put your knowledge to the test? Here you'll find a selection of Nomination jewellery just for men!