When we talk about the wedding, we always mention the bride, her amazing dress, her jewellery and her hair style. But we can't forget the groom! He should also be impeccable, in the right suit with all the right details. What are the groom's must-have accessories on his wedding day? Cufflinks, of course !

Often considered a classic accessory to be worn at formal events – like a wedding, for example – cufflinks can also be an important detail which adds character to your look: in fact, cufflinks can be interesting and fun and add a touch of personality to a look which would otherwise be drab or overly formal.

But let's get back to weddings. Not only should the groom wear cufflinks on his wedding day, but all the wedding guests should too. For an elegant affair such as this, the guests' looks should also include men's accessories which add a touch of class.

The groomsmen, above all, must pay close attention to following the proper etiquette on their friend's or family member's wedding day: after all, they'll be standing next to the groom during the ceremony and they must look sharp!

Cufflinks weren't invented yesterday: there's a rich, long history behind them, their functionality and their beauty.



A bit of history: cufflinks of the past

The first references to men's cufflinks appear during the post-Renaissance period: at that time they were quite ornate and valuable, in gold adorned with gemstones, and were worn by the aristocracy and bourgeoisie, especially in England. More lavish and extravagant than today's versions, cufflinks were two buttons connected to each other with a small chain: a jewel which would replace all the decorations that tailors has used thus far on shirts for the wealthy.



In addition to being a status symbol for rich, affluent men , cufflinks also served a specific purpose during that period: the shirts of the well-to-do were made with starched fabrics that needed more than a simple eyelet with small pins or buttons – as was the fashion then – to keep the shirt cuffs together.
At the end of the Eighteenth century, trade had helped spread this custom: from England to France, and then to the rest of Europe. Up until the industrial revolution, cufflinks were only used by aristocrats and the bourgeoisie, who often requested customised cufflinks from their jewellers, with their banners and the family crest.

The industrial revolution introduced cufflinks which were accessible to all, even though they remained an accessory which was only worn on formal occasions.



Special occasions: how to choose the right cufflinks to wear to a wedding?

Speaking of special occasions, a wedding is the perfect example of when etiquette dictates the need for cufflinks. Today, cufflinks come in basic versions, crafted in stainless steel and embellished with small sparkling details or with enamel. Of course, they also come in fun shapes, ideal in situations where details are important but you don't want to be bogged down by tradition.



For example? Anchor-shaped cufflinks in stainless steel. Bold and fun, they're perfect for events like an important party or to wear with your work suit, but not necessarily for a wedding.
We suggest that the groom's accessories stick to classic yet stylish shapes. Stainless steel is the perfect metal for this type of jewellery, because it offers a clean, sober starting point. It's the enamel details, the small sparkling gemstones and metallic touches, like gold, which add style.

Round or square? Both shapes work perfectly for formal occasions like a wedding, so the groom should choose the one which goes best with his dress shirt.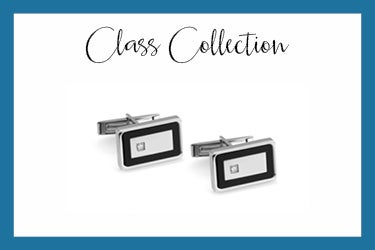 If you don't want to let go of colour, choose the Voyage dress shirt cufflinkss: the sparkling gemstones decorating them are also available in blue, which goes perfectly with a blue suit.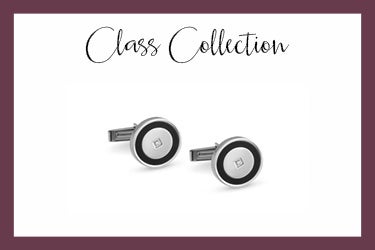 Do you prefer softer shapes? Then go for round cufflinks: the perfection of a circle is found in stainless steel cufflinks with enamel detailing and a touch of brilliance which brightens up the groom's outfit on his wedding day.
Can't decide between rigid or soft lines? Then the right choice for you is the hexagon cufflinks, which are also decorated with small touches of sparkle.

As we said at the beginning, a wedding is an event where the groom isn't the only man who should be wearing cufflinks: the groomsmen should also wear accessories which enhance their look and elegance, given the important role the groom's given them.

What are the right cufflinks for a sharp best man? Elegant, refined, but also a bit fun and which are sure to get noticed. Our advice? Voyage cufflinks decorated with coloured hematite and with gold symbols. Each man should choose his favourite: the windrose for the adventurer, an anchor for the man who loves the sea.



Voyage cufflinks are also available with small, lucky four-leaf clovers paired with brown hematite: perfect for the best man who prefers a light coloured suit.