New year brings along the desire to achieve new goals, to realise something important, to set new objectives that will lead us to big changes during 2018. Well, this is the moment to make the well-known New Year's resolution!

There are those who want to complete their studies, those who want to go living on their own, those who want to finally leave for that long trip, which has been locked in the drawer until now. Well, everybody has a very personal goal to be achieved during this new year.

It's not always that easy to keep alive new year's resolutions: let's say that, sometimes, when the initial enthusiasm disappears, it becomes harder and harder to make those little sacrifices which will lead us later to a bigger joy.

In order to realise our desires, it is necessary to resist and to stay strong and motivated: maybe it exists something to help us remembering that at any time. What about wearing a sentence or a word which will encourage us to pursue our objectives every day?

Here's for you the personalised jewellery to be worn or to be given to someone you love in order to keep alive all good New Year's resolutions.



A motivational phrase you can always carry with you

Always wear a jewel with a quote remembering you your good resolutions for the new year might be the right way to keep them.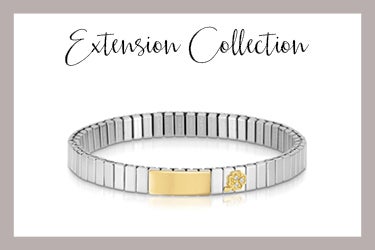 We suggest you a bracelet with engravable plate: your words will be written in the gold, making them always vivid and visible, every day. The charm with the four-leaf clover will embellish this bracelet: a little bit of luck never hurts, when we're talking about realising our desires!
There is also a 100% for him engravable option. The Trendsetter bracelet has a plate in engravable steel on its back: here you can write the motto you want to follow all year long, this will be engraved with a track carefully kept by the jewel you are wearing around your wrist.
Important words for unique bracelets

Sometimes all it takes is a word to feel the boost and the motivation reaching again their highest level. A word written in the precious metal, such as the one of the Composable Links you can add to your personalised bracelet, just like an amulet.

The Composable Classic Link in silver will be the perfect charm for a bracelet to be given to someone special, in order to dedicate him/her a strong message.

There are many other Composable Links to be personalised with an engraving: you can choose an engravable Double Link such as the golden one, in order to create a unique composable bracelet.



Symbols and lucky quotes to realise your dreams



Let's not underestimating the power of symbols. Words are full of special meanings, depending on who is listening or reading them, but a symbol can become a special message for the one who is interpreting its hidden meaning.
Realising dreams is the best thing we can wish to someone we love: which is the idea to push him/her to keep fighting in order to accomplish his/her goals? A decorated jewel with all lucky symbols, this object will carry all the love of someone who thought about this special gift for him/her.



Adorn the Composable bracelet with the rose gold four-leaf clover Link and here you are the magic amulet you can give to someone who deserves your best wishes for this 2018.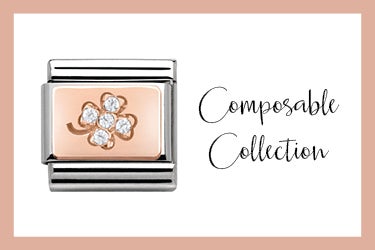 Another good luck symbol is the horseshoe: classic and precious, this charm is perfect both for him and for her and it will add a little bit of luck to a Composable charm that can be worn on every occasion.

Let's celebrate in the best way this new year with a special Link: 2018 has start and it will represent an important element for our stories. Our Link 2018 is a Link in yellow gold with the numbers representing this new year written in black enamel: add it to your Composable bracelet or convert it in a precious gift to wish all the best to someone you love


Symbols, quotes or words to push us to do our best during this 2018. Let's not forget something: life is beautiful and it is always ready to surprise us or to give us some opportunities.