Since ancient times, people have passed around so many beliefs and legends about the mysterious forces involved in determining the course of events. In particular, this force would be the Luck, already venerated by the Roman and Greek peoples of antiquity as goddesses with various forms capable of delivering prosperity, favor and protection.

Although today the mysterious deities whom ancient people believed capable of determining the destiny of humans are no longer venerated, the custom of wishing "good luck" to those who are taking on a new adventure or facing a challenge certainly hasn't gone away.

From sayings to tickets, to the many good luck amulets: there are so many ways to wish good luck to someone you love. But why not create our own way of saying "good luck!" to a special person? Good luck jewelry could be the right idea to create an original and personal wish.

With Nomination Composable Links and charms dedicated to good luck symbols you can compose a good luck bracelet the way you want: the gift idea for a person who deserves a special wish, and a personalised jewel to create for yourself, too. Because a pinch of luck never hurt anyone!

Here is our selection of the most beautiful charms with good luck symbols to add to a personalised Composable bracelet to create unique unique good luck jewellery!




#1 Green Four-leaf Clover Link
The four-leaf clover is one of the most classic good luck symbols. In nature, this plant is nothing more than an anomaly of white clover: it is estimated that only one in 10,000 clover has one more leaflet!
It is for this reason that the four-leaf is commonly considered to have the power to bring good luck to whoever is able to find it.

#2 Rose Gold Good Luck Knot Link
A good luck symbol rich in meanings, the good luck knot in Rose Gold is the charm to give to someone we love. It is more than just good luck jewellery, because the knot also represents the indissoluble link between the one who gives the Link and the one who receives it.




#3 Good Luck Link
"Good Luck": the simplest and most spontaneous wish you can make to those who are preparing to face a new challenge. Here this good luck phrase becomes a treasured Gold Link to add to the personalized bracelet that tells your life story.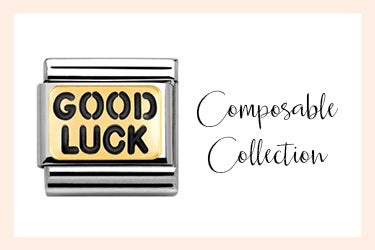 #4 Link Ladybug with Pink Gold Stones
A treasured charm to wish good luck to a teen or a little girl who is about to embark on a new journey full of adventures.Rose gold and brilliant stones form a delicate ladybug, a tiny animal long thought to be lucky: in fact, the colour red in ancient mythology was a symbol of prosperity.

#5 Make a Wish Gold Link
Make a wish! The wish for someone's dreams come true is one of the most beautiful things you can do: dedicate this Gold Link to someone special, who will carry it with them on their Composable good luck bracelet.




#6 Red Horn Link
In Italian tradition, a red horn is a powerful symbol of goodwill: it protects those who carry it from bad luck, gives strength and vitality.
According to the beliefs of Italian folk culture, however, to be truly effective it must be received as a gift from someone else: have you already decided who to give this link decorated with a red horn to?

#7 Gold Horseshoe Link
Another classic good luck symbol is the horseshoe: in many cultures it is believed that hanging it above the door of a house helps to protect it and bring good luck to those who live there. In this case, the horseshoe is transformed into a treasured golden good luck jewel, to add to your personalized Composable bracelet to always carry a pinch of good luck with you.




#8 Silver Four-leaf Clover Big Link
And good luck gets even bigger if you wear a Composable Big bracelet adorned with the good luck charms! Choose the treasured four-leaf clover in Silver and Cubic Zirconia if, together with a good luck amulet, you are also looking for a glamorous bracelet.
#9 Gold Aladdin's Lamp Link
Another fascinating story about good luck is that of Aladdin and the amazing Lamp, a famous tale of A Thousand and One Nights. The mysterious Genius of the lamp decided to grant the boy three wishes: and what would you choose if you were faced with such good luck?

#10 Horseshoe Pendant Link
The classic rusty horseshoe turns into an elegant and stylized charm. The pendant is made of silver and brilliant Cubic Zirconia: a magic pendant to be given to a girl or a woman to wish her the best on a really special occasion!
Good luck jewellery for you and your friends

In addition to custom good luck bracelets, Nomination also offers other ready to wear good luck jewellery: but which ones?




The Good Luck Extension Bracelet, for example: an elegant bracelet in extendable steel with gold details and brilliant stones. The "Good Luck" engraving is the star of this jewel, next to the four-leaf clover symbol, a true must when it comes to good luck jewellery.
As an alternative to bracelets, there is the Extension Rose Gold collection Ring: here too, the four-leaf clover is the star and is rendered in brilliant stones on the rose gold plate at the center of this jewel. A perfect accessory as a good luck gift idea for a romantic and girly friend.

Last but not least, the Cubiamo pink leather bracelet, with a silver charm that represents a cute ladybug, to wear on any occasion!