Among all the birthdays that are celebrated in life, one in particular is the most special because it brings with it many intrinsic meanings: we are of course talking about what marks the passage to adulthood. In most countries around the world one becomes an adult when they turn 18 - this applies to almost all of Europe, most of the Americas and for a large part of Africa.

Reaching adulthood means for all young men and women to fully enter into "the grown up world", not only in a legal sense but also from a symbolic point of view. Becoming an adult makes every young person truly responsible for himself and his actions: the protected and pampered years of childhood end as if by magic and a little by little we learn how to be adults.
Entering into adulthood with big celebrations

To mark this step, lavish and unforgettable celebrations are a must: after all, how many times do you go from being a teen to an adult?

The custom of inviting friends and relatives to big birthday parties that celebrate adulthood come from the United States and Latin America. Here, the symbolic passage from childhood to adulthood is celebrated by organizing large parties at the disco, the pool or at home in the garden, even getting the entire neighborhood involved in celebrations that can last a whole day.

It should be emphasized that the symbolic passage to the grown-up world does not necessarily correspond to reaching adulthood on paper. In American culture, this is believed to be at the age of 16, and that is why the big celebrations mentioned before took on the name "Sweet Sixteen", despite the fact that in the United States one becomes an adult at the age of 18 - except for the States of Alabama and Nebraska, where the age is 19, and Mississippi, where it happens at 21.

The same goes for the tradition of many countries in South America, where "Quinceañera" is celebrated outlandishly: in Latin American culture it is thought that girls become women at the age of 15. These big celebrations are therefore reserved only for young women.

Whatever the age at which it is celebrated, adulthood and all its meanings are now being honoured at big parties in many countries around the world. If you are invited to the big coming of age party of someone you love, there is just one dilemma: what do you give a young man or a woman for such a special birthday?

Have no fear: here are some suggestions for choosing the right gift for an 18th! A piece of jewellery with special meaning will be a big surprise, for her, as well as for him!
Gifts for him and her: Links dedicated to adulthood around the world

A simple gift with big impact that will always remind the birthday boy/girl of the special celebration when they reached adulthood: what is it? Charms with numbers symbolising this milestone, to add to a personalised Composable bracelet!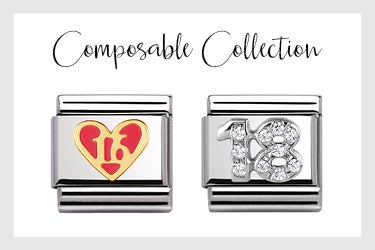 If you have been invited to a quirky "Sweet Sixteen" you can choose the charm with the number 16, stamped on a red enamel heart.

In some countries around the world, however, it is necessary to wait for the 21st birthday: here is a charm with the number 21 in red enamel and gold details, for a gift that will make the achievement of this milestone memorable.
Gift Ideas for an 18-year-old girl

If you are looking for a gift idea for a girl that is turning 18, you can opt for a piece with special meaning, which will always remind her of the special moment.



Why choose this piece? For its brilliant gold details and the strong and clear hymn it bears: "Live", because life is beautiful and full of surprises!

Looking for other gift ideas for a special 18th? Here are a few more tips!
Gift ideas for a 18 year old guy



Let's talk now about jewellery and the accessories for him: even the transformation from a boy to a man deserves a special gift!
A timeless accessory, worn by every distinguished and classy man, a watch is the gift idea that always works. For the birthday symbolizing the passage to adulthood, the perfect watch is the one that adapts to every outfit and every occasion: The Time Collection Watch, with case and face in Steel and Nomination silicone band could be what does it in your case.

But the modern man certainly does not limit his accessories to a watch: bracelets with real character and strong soul are very trendy among young guys and men today.