The school year is gradually coming to a close eand children – as well as parents – are starting to dream of the yearned-for summer holidays. Sun, sea or maybe the mountains? Before thinking of the holidays, let's remember that this school year is not quite over yet: there are still plenty of lessons and tasks to complete, as our children's teachers know well!

In every class and in every place, teachers have taken care of our children and their education with passion and dedication. From preparing classes to projects for special occasions, from school trips to the marking of tests: teachers have been at our children's sides for many long months, and a little thank-you is surely in order!

It has become an established tradition to give pre-school and primary teachers a gift at the end of every school year. A token to thank and surprise them for the good work that they have done all year with our children, who have grown day by day.

But what is the perfect gift to surprise our children's teachers? Teachers are brilliant women, full of energy and passion: let's thank them with a piece of jewellery, to help them sparkle in all their brilliance and beauty! Here are our suggestions for selecting the right gifts for pre-school and primary teachers.



A personalised bracelet for teachers

A teacher's job is challenging but offers great rewards: helping children get to know the world is an important task! At the end of the school year, it would be nice to find a gift that symbolises teachers, their work and the gratitude of all mothers for the time spent with their children, helping them to learn new things.

With Links from the Composable collection, you can compose a message dedicated to teachers to thank them at the end of the school year.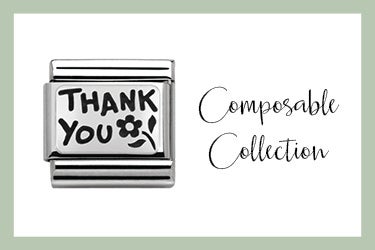 Among the precious Composable materials, you will find various suggestions dedicated to teachers. A few examples? The silver Link with the word 'Teacher', to pair with the Thank you Link, decorated with a flower. A special message to dedicate especially to teachers!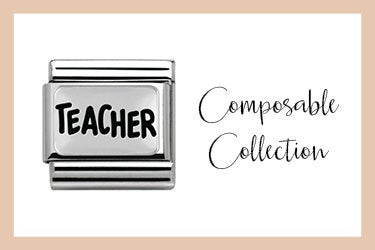 A special thought for the end of the school year

The bond created between children and teachers throughout their school life over the course of several years is strong. As children continue their studies, they will carry with them the memory of the most special teachers for ever, while teachers will get to know many other children, and accompany them in the first steps of their education.

The perfect gift for teachers at the end of the school cycle must be an item that allows them to remember a wonderful class of children, with whom they spent a lot of time, over the years to come. A meaningful gift, which will remind them of those children who began an important journey under their guidance: what did they choose to study at secondary school? Will they go to university? And what career will they embark upon?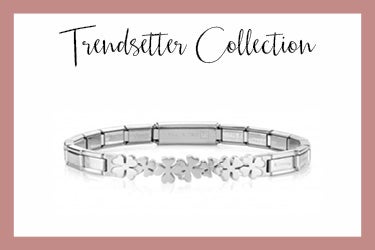 For the teachers who have accompanied our children for a long time, a gift of particular significance is required to mark the end of the school cycle. A precious bracelet to wish them good luck for the future. Our recommendation? The Trendsetter bracelet decorated with four-leaf clovers.
Do you and the other parents wish to give your children's truly special teachers a gift? If so, then choose to engrave a message dedicated just to her on a precious piece of jewellery. The Extension Messages Bracelet with a plaque that can be engraved is perfect if you want to give your child's teachers a long-lasting memory to mark the end of the school cycle.
Or maybe you think that a gift for the teachers at the end of the school cycle should be colourful and fun instead, just like the school years they have spent together with their pupils? If so, then choose a necklace with one or two pendants in attractive shapes. Little animals and flowers, coloured stones and sparkling metals: among our recommendations you will find necklaces with pendants that are perfect for teachers!



And what about male teachers?

Male teachers also deserve a special gift to thank them on the occasion of the end of the school year or school cycle. What should you choose? You can also consider a piece of precious jewellery for them, which will leave them a special memory of a class of children to whom they have taught many things, and with whom they have spent many fun moments.

What should you choose for a male pre-school or primary teacher? The right piece of jewellery for this occasion is surely a bracelet. A piece of jewellery that can be worn every day, without seeming excessively elegant or formal.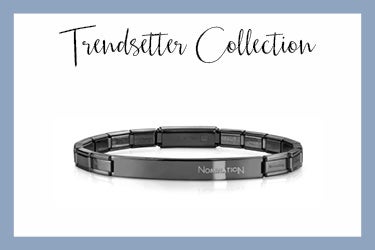 Our recommendations? Two bracelets that are perfect for a man with a casual but well-thought out look. The first is the Trendsetter bracelet finished with coloured steel, a piece of jewellery that pairs perfectly with many outfits and looks for the man who always wants to appear well-presented.
The second is the Voyage bracelet with anchor: steel, black hematite beads and yellow gold for a symbol that evokes the world of the sea. An accessory that gives a touch of style to a modern man, but without being excessively formal: perfect, therefore, for a primary school teacher.