Father's day is coming, a special moment to coddle the most important man in your life: the first hero to his son, the first love to his daughter.

And while his outburst or a little whim…he was right there, next to you, to point you the right direction. Is he a very tender man, or a lover of travels, or a stylish person or a daydreamer? Here are the best Nominations gifts, to fit in there, for the Father's day.



Nomination gift ideas, for a soft-hearted dad


We learn from the tales and cartoons we grew up with, that being a tender and loving person rather doesn't mean being weak! Tenderness is a virtue of the brave. If we think of The Lion King and Mufasa, vigorous and audacious, also able to be very sweet to Simba, who grew day by day thanks to his teachings. It's just the love we feel for our dad that encourages us to follow his advices.

Then focus on simplicity and choose our Composable with the "Dad" Link in steel and black enamel. If you are willing to try something a little less basic, then choose among the Classic Blue Collection with a double Link in steel with the anchor symbol.

In addition to having a big heart, is your dad also an animal lover and inseparable from his our super-faithful four-legged friend? He's actually also your puppy's dad, then why not add your furry friend in his special Nomination Composable with special Link in 750 gold?



Nomination gift ideas for a sporty dad


And if he's like the hunky King Triton, the Little Mermaid's father, king of waters and sea, here are some gift ideas for your sporty dad, for which every moment of the day is the right one to go for a run, for a walk or whatever else is a great way to get active.

The Pendant from our Atlante Collection with the helm symbol is just perfect because totally expresses the will to get active, to go and explore. Perfect for all those dads who feel a boundless love for the sea and like to sail in their spare time.

If your dad love to run, then you may opt for a Link in steel, gold and coloured enamel depicting a runner perfect to tell him how much you love his constancy in cultivating his great passions. If his most notable passions include playing soccer, our Nomination Link with the soccer ball is definitely a must-have.



Nomination gift ideas for a traveller dad


Probably as a child, you missed your dad when he was away on business, but today you are happy if he travels and is ready to enjoy his free time. Whether is like Pongo from One Hundred and One Dalmatians, ready to start an endless journey for a good cause, or maybe he is a globetrotter just like Babar the elephant, the perfect gift might be a key ring.

Among our customised keychains, those from the Voyage Collection, such as the steel model, also available with diamond or blue sapphire, will be right for you.

Real travellers will never forget their home.



Nomination gift ideas for a stylish dad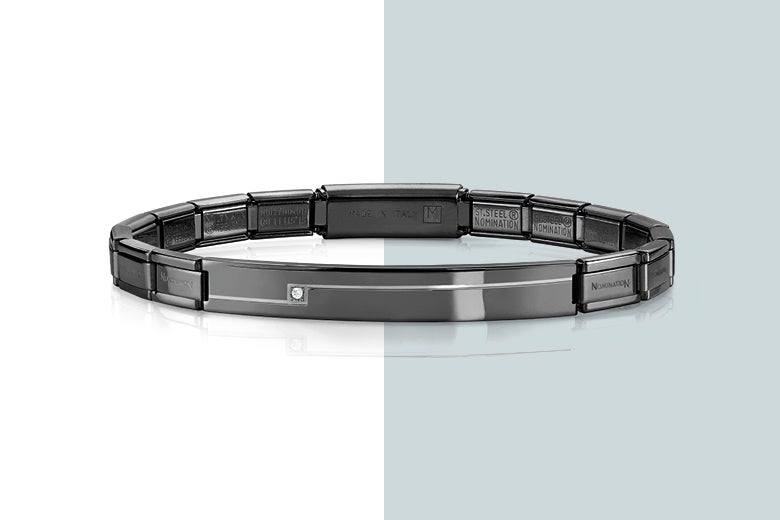 Is your dad stylish just like King Stefan, Aurora's dad, in Disney's Sleeping Beauty? Then you definitely have to choose a special classy gift for a man careful to detail. Our Nomination Trendsetter Collection will inspire you through its bracelets in steel with PVD finishes and a very small Swarovski.




Nomination gift ideas for a creative and dreamer dad


PoFor a dreamer idealist dad, who has always taught you the importance of creativity and has always been there for you, among tales and toys, as Geppetto, the woodcarver and father of Pinocchio, we recommend you our customised gifts for the Father's Day, as an engravable Bracelet from our Trendsetter Collection. Here too, the anchor symbol may be perfect, because everybody knows, your dad will always be your anchor of salvation!

You can opt for a double gift instead: one for you one for him.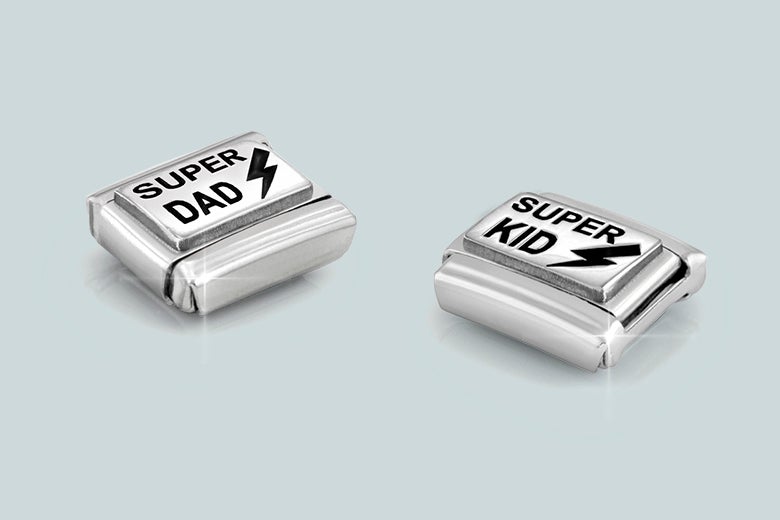 Do you want to tell him that he is your super hero, your point of reference, the person you aspire to be like? Then buy two Composable Bracelets: yours with the "Super Kid" Link and one for your dad with, obviously, the "Super Dad" Link.


There are many Nomination Jewels ready to amaze you for perfect and unique gifts, on Father's Day!