Floral embroidery, colourful tulle, bold shapes: the trends for the most magical wedding dresses of 2018 are all over the place, from very classic styles to those that brake completely with tradition.

From the Fashion Week runways in New York, Barcelona, London and Milan come spectacular dresses designed by Elie Saab, Rosa Clarà, Max Mara, Jesus Peiro and many other exclusive brands which set the tone this season for the fashion bride of 2018. Each collection dedicated to the 2018 bride has a precise characteristic: the Carolina Herrera bride wears pants, Elie Saab's version is romantic, Jesus Peiro brings back looks inspired by the '70s.

The bride of 2018 often brakes from tradition, although some classic elements have been modernised: timeless lace, regal volumes created in tulle, mermaid dresses. These aspects are blended perfectly with oversized colourful flowers, thigh high splits, and eccentric capes.

The fashion trends for the 2018 bride are extensive: every women looking to take the big leap is sure to find the perfect dress for her shape and personality. Let's take a look at the 5 major fashion trends for the 2018 bride: dresses, accessories and jewellery to look your very best on your wedding day.



#1 Sleeves

Many designers have the 2018 bride in classic silhouettes, not overly poufy, where lace and sheer materials are in the forefront. But the key eye-catching detail of these dresses are without a doubt the sleeves: thanks to the sleeves, gowns from Bluemarine and Rosa Clarà are truly unique.

Bluemarine's bride wears delicate off-the-shoulder poet sleeves with full tulle skirts in a throwback to the '80s. Rosa Clarà is focused on flared sleeves: a carryover of the boho chic which dominated the bridal runways of past seasons. Super long, full and flowy, flared sleeves hearken back to the 1970s with a hint of kitsch that's so much fun. The bride who chooses this style dress won't be wearing bracelets because they'd get swept away in the volume of the sleeves.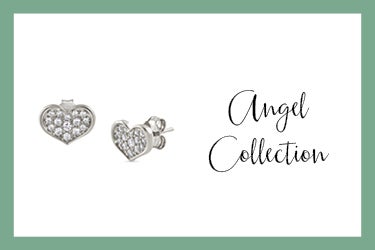 The right jewellery to pair with this type of dress is something which accentuates the face: romantic heart-shaped earrings embellished with sparkling gemstones are perfect for the dress with a touch of retro.
#2 Colourful flowers

Young, bubbling brides will love dresses from Atelier Aimée Montenapoleone and from Elie Saab, who offer regal styles decorated in colourful floral embroidery. It's one option for the bride who wants to break away from the traditional white dress and who wants to remember her wedding as a fun, colourful day.

Dresses of this nature come with strapless corsets embellished with colourful leaves and flowers, and voluminous asymmetrical skirts in tulle. Atelier Aimeé dresses come in pastel tones and are styled with extravagant updos adorned with contrasting floral designs.



Don't want to abandon the idea of wearing a flashy accessory whose shape and colours recall your floral gown? If your dress is sleeveless, you can pull off a bracelet. We suggest the Composable Classic Bracelet Couture Romance: the rose gold details will match perfectly with pastel floral tones, while the sparkle from the gemstones creates soft, romantic contours.



#3 Eccentric outerwear: the cape

Dedicated to the decidedly regal bride, dresses from Vera Wang and Tot-Hom have been paired with the cape. It took all different forms on the runways: majestic, light, and sometimes resembling an actual coat, the manteau or cape is an accessory which gives importance to even the most minimalist of dresses.

The manteau perfect if your wedding day is in late fall or winter, can also offer a contrast to a white dress: red and black are the trendiest colours. Sheer and elaborate, long or short, the choice of cloak is all about enhancing the dress.

What other accessories work well with the shape and flow of a cape? When a woman moves her arms, her wrists get noticed: a precious bracelet is the ideal jewellery in this case.



#4 The bride wears the pants

It's not the first time we've seen this on the runway, but this year many designers chose pants for their brides. Some maisons even created a jumpsuit version: Max Mara's is a one shoulder jumpsuit with palazzo pants and asymmetrical draping, perfect for a women with class and modern tastes.

On the runway, Carolina Herrera showed a bride in cigarette pants paired with a white voluminous blouse adorned with a large bow and ruching. A look this modern goes perfectly with clean, contemporary jewellery, especially when the top has important embellishing. In this case, a minimalist ethno-chic bracelet is the right choice: we recommend this flexible bracelet from the Essenzia Collection in bronze.



But if your top has clean lines and the pants are full, go with a pair of long earrings: a contemporary design with elegant white pearls turns any bride into a modern-day princess.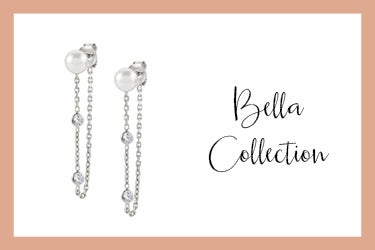 #5 The mermaid gown reinterpreted

The curvy mermaid silhouette is a shape women love in a wedding dress. The 2018 bride looking for a mermaid gown won't be disappointed: the mermaid in stiff materials gives way to soft fabrics which perfectly enhance all body types.

Silk and lace are among the favourites, which this season are combined with very high slits and very low necklines to make this style even easier to wear. If you choose a plunging neckline like those from the Rosa Clarà Bridal Collection, you should wear a long, delicate necklace: a great option is the silver necklace with pendant decorated with a large pearl.

If you prefer a dress with a slit and higher neckline such as those presented by Costarellos or Pronovias, go with a pair of long, glittering earrings, like these star sparklers.

Discover all our jewellery dedicated to the 2018 bride.