Have you already thought about making a reservation on the best restaurant in town, have you already looked for the flower shop that makes the best flower bouquet, have you already planned in detail your special evening? Mission: surprise your better half for your engagement or wedding anniversary.

This target is far from easy, it has to be pursued with attention and dedication. Choosing the perfect gift may help you to achieve this goal. But which is the perfect gift for a boyfriend or a girlfriend? And for a wife or a husband, who know us so well?

A precious wish will help us to express all the words that sometimes we are not able to express in the best way: here's our tips to tell your partner how much you care about him (her) in a very special way!



Anniversary gifts for her

Heart shaped charms, brilliant stones, romantic quotes engraved on the most original jewellery: anniversary gift ideas you can dedicate to a special woman are really a lot!

Sophisticated or with a rock soul? Romance comes in different shapes and you can choose the perfect jewellery for her, telling your story through your very personal language.



A Steel and brass bracelet, decorated with a fall of heart shaped pendants, is the perfect anniversary gift for a strong woman full of energy. Furthermore, it is a limited-edition jewellery, as unique and special as your love is!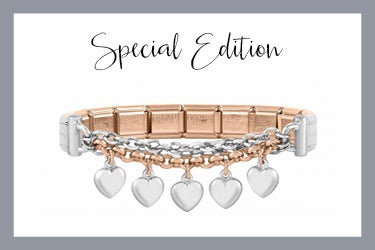 Are you looking for a very special anniversary gift? A gift which would make your better half feel special in any moment.



The jewellery to choose for your her is a ring: the Stella Collection ring is composed of three stars adorned with stones, silver and Cubic Zirconia. Choose this ring to give a little bit of magic to bring along. .
Do you want to give a lasting thought of love for this anniversary? Choose for her the Composable Classic Anniversary Bracelet: a precious jewel realised in silver and stones, decorated with a Double Link reminding you of this very special event with an enamel writing.



Anniversary gifts for him

For the most special man, a lot of original gift ideas to celebrate an epic anniversary. The infinity symbol – that represents a love that will last forever – decorates a charm realised in steel and silver, that you can add to you personalised Composable bracelet: an original thought to tell your boyfriend how much you care about your love.

Do you want to add another link to your love story? Enrich the Composable bracelet you want to dedicate to your partner with a Link with a personalised engraving: a piece finished with precious silver, where the goldsmith will engrave the love message you can dedicate to your husband or boyfriend.



Do you want to surprise him with a trendy precious accessory? Then the perfect anniversary gift is the Trendsetter Bracelet with coloured steel: choose the finish that represents the most your better half and give him a piece of jewellery he can wear every day, on any occasion!